Maritime Blockchain Labs has formed a new consortium with MMBL, Maersk, Heidmar, PTC Holdings Corp., Mission to Seafarers, C-LOG, Navozyme, Hanseaticsoft and others to pilot a blockchain-based seafarer certification system.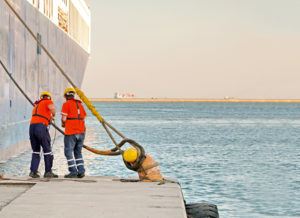 The demonstrator project will look to refine and advance processes that can be marred by a lack of verification for safety documentation, paper-based certificate management and a lack of access to validated safety and training certifications of seafarers.
The final solution will enable individual seafarers to manage their certificate repository from original issuance, maritime administrations to manage the renewal and endorsement across jurisdictions, and crew management organisations to manage seafarers for crewing of vessels. Vessel owners will also receive an overview of their crew, certificates and endorsements.
"Blockchain has the potential to significantly improve the transparency, authenticity and ease of working with crew certification; both for the ship owner/operator and most importantly for the crew themselves," said Maersk head of Northern Europe Manning office Graeme Thomson.