Maritime Intermodal has launched a new rail freight service from DP World Southampton to its terminal at East Midlands Gateway.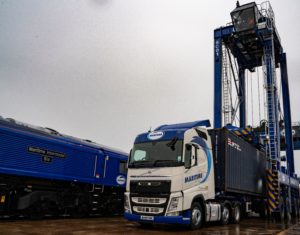 Maritime's eighth service, which will be hauled by DB Cargo and with the capacity to move up to 74TEU each way, will be travelling from Southampton to East Midlands Gateway and will eventually be utilised regularly subject to container volumes.
Containers destined for the East Midlands would previously have been stored at Maritime's Birmingham Intermodal Freight Terminal but with East Midlands Gateway now capable of storing up to 4,000TEU, Maritime said it cut journey times and provide much greater storage capacity until stock needed to be delivered.
Maritime Group executive chairman John Williams said: "This new service really highlights the importance Maritime and the wider logistics industry plays in keeping Britain moving during this difficult period.
"We will continue to do whatever we can to support our customers during the pandemic and providing them with reliable, cost-effective, and sustainable solutions to moving and storing their goods."