Mars and XPO Logistics have implemented automated handling systems and robotics at a site in France.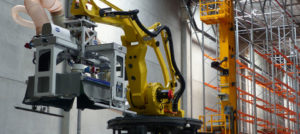 The two companies collaborated on solving the challenges associated with package preparation at the Mars site at Boigny-sur-Bionne, near Orléans which is managed by XPO.
A joint innovation team of specialists from XPO and manufacturer Alstef mechanised 17,200 sq ft of space at the temperature-controlled Boigny site in less than a year. The facility manages the storage and distribution for a wide range of Mars products including Pedigree and Whiskas pet food, Twix, and Snickers chocolate, and food brands such as Uncle Ben's.
The site has been equipped with a robot that can prepare 50,000 to 60,000 packages per day while operating on a continuous basis. It increases reliability by minimising errors during strenuous aspects of order preparation. The solution has the capacity to accommodate up to ten million packages a year.
"Our growth in volume, the expansion of our product range and the development of new distribution channels have led to increased demand for layered pallet preparation and package preparation," said Jonathan Jambon, French market supply chain director of Mars. "To adapt to these changes and satisfy our customers, we have put our trust in XPO to design an innovative solution that is both flexible and meets the requirements of Mars Quality standards."
The customised solution by Alstef is integrated throughout the package preparation process, from the arrival of goods in plastic film wrap to the preparation of new pallet loads ready for shipment. Upstream in the process, an automated storage and retrieval system places the pallets in racks at high speed. Each type of package is handled in the fastest and most consistent way possible without sacrificing workstation ergonomics.
The robot's articulated arm can pick up as many as five stacks of packages at one time to assemble pallets with multiple product codes. Equipped with grippers and a pneumatic system, the robot ensures product safety at each stage. Nearly 90 per cent of Mars products are compatible with the automation, which has the flexibility to adapt to the constraints of the various packaging options (glass, cardboard or plastic bags). For outsized packages, a manual preparation system has been designed to reduce repetitive employee movements as much as possible through the use of automatic conveyors.
Richard Cawston, managing director of supply chain, XPO Logistics Europe, said: "In light of the growth of our customer Mars, our challenge was to completely transform the logistics solution by tailoring the latest technical advances in software, robotics and pneumatic equipment, all without disrupting activity. With this new solution, we can realise efficiencies in distribution while lowering operating costs for Mars."