Marston's, the pub retailer and brewing company, has invested £700,000 in Yale equipment in a contract with Briggs Equipment.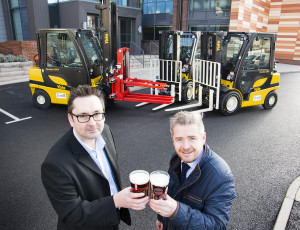 Briggs will supply Marston's with 37 pieces of Yale equipment including: 3 tonne and 2.5 tonne LPG counterbalance forklift trucks, 3 tonne LPG compact forklifts, reach trucks, low level order pickers and ride-on pallet trucks.
The new equipment is to be used in 13 of the retailer's depots in the UK,including: Mansfield, Burton on Trent, Shadsworth near Blackburn, Cumberland and the Park Brewery site in Wolverhampton.
Kevin O'Rourke, warehouse operations manager based at Marston's House in Wolverhampton, said: "We've been business partners with Briggs for a long time, but didn't fully appreciate the scope of its current operation. For us, it is the range of aftersales support services that is available that makes such good sense.
"Briggs Equipment was the only supplier that could offer a complete response to our current needs and support for the future development of our business and I am confident that, working together, we can improve the management of our fleet and open up opportunities to generate key operational efficiencies."