Spirits company Maxxium UK which has renewed its supply chain contract with XPO Logistics.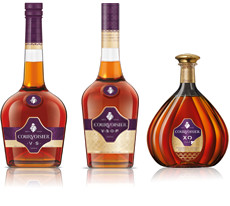 Maxxium distributes a number of spirits brands, including The Famous Grouse, The Macallan Scotch whiskies, Courvoisier cognac and Jim Beam Bourbon.
XPO handles the company's UK storage at its 125,000 sq ft logistics site in Mossend, Scotland. The contract also includes contract packing of products for distribution to customers, including major retailers. The transport is also managed by the logistics company alongside regional transport providers.
"Having worked with XPO for a number of years, we are confident in the team's ability to manage the storage and distribution of our brands," said Gary Thomson, Maxxium business services director. "XPO's flexible warehousing and distribution solution in Mossend has enabled us to optimise our stock holding during times of peak demand. This supports our drive to deliver superior service and excellent execution across our supply chain, placing the customer at the heart of what we do."
Peter Fuller, XPO business unit director: "Maxxium has been an important customer of ours since 1999 and we're pleased to continue to support their growth," "The expertise of our dedicated Mossend team is particularly evident during the three months a year when Maxxium realises 50 per cent of sales. XPO is proud to provide a class-leading solution for Maxxium and their customers."