Michelin has opened a 575,900 sq ft European distribution centre in Stoke-on-Trent. The tyre manufacturer invested £10 million in upgrading its logistics operation at the site.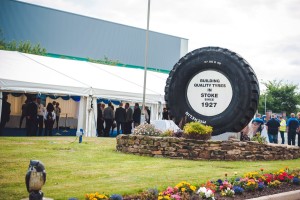 The new facility will also host a national distribution centre for ATS Euromaster. Together the two sites can handle over five million tyres annually for the UK and Ireland.
Michelin has doubled its logistics team at the site to 150 in order to cope with more demand.
"The transformation of our logistics operation will allow us to improve service levels to dealer partners and manufacturers, by reducing delivery times and ensuring greater product availability," said Richard Whitehurst, service to customer manager at Michelin Tyre. "This is a game-changing development for Michelin; the decision to share facilities with ATS Euromaster brings natural synergies, and focuses around having one logistical team with one shared vision, to support the next steps of both organisations' growth."
Peter Tye, business support director at ATS Euromaster, said: "Our new NDC is a pilot project for the Euromaster Group, increasing our flexibility and enabling us to get the right products to the right centres faster than ever before."