Troy A Cooper has replaced Hervé Montjotin as chief executive officer and chairman of the management board of XPO Logistics Europe. Montjotin left the business on 4th September.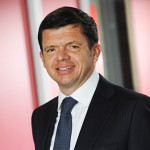 XPO chief Bradley Jacobs said: "Hervé accomplished a great deal during an important time in Norbert Dentressangle's history. We are grateful for his many contributions and wish him the best in his future endeavours."
Montjotin's severance package include a two year non-compete undertaking in exchange for a monthly payment of  €52,165.58.
Cooper is chief operating officer of XPO's global organisation. He retains this position while assuming chief executive responsibilities for the company's operations headquartered in Lyon, France.
Prior to joining XPO in 2011, Cooper held senior management roles with two public companies, United Rentals, Inc. and United Waste Systems, Inc., and earlier worked in public accounting with Arthur Andersen and Co.
Cooper will continue to report directly to CEO Brandley Jacobs. "As COO, Troy continues to do a stellar job of ensuring that our global vision meshes seamlessly with our daily operations. In Europe, Troy will work shoulder to shoulder with our outstanding business leaders to grow our customer service capabilities," said Jacobs.