Narrow Aisle is to increase output at its UK production site over the next three years due to increased demand for its Flexi forklift trucks with factory expansion plans.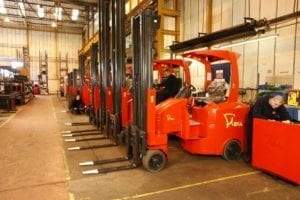 Narrow Aisle will overhaul and extend its UK site's production and spare parts operation to increase stock handling and pick and pack capacity to enable same-day dispatch of spare parts to UK and Overseas distributors. Loading facilities will also be upgraded to deliver extra capacity for sea-containers into which Flexis are loaded for shipment to overseas clients.
"The Flexi articulated forklift truck concept is now well established and as sales continue to grow, we have to ensure that our production facilities are able to keep pace with demand," said Narrow Aisle commercial director John Maguire.
"The ongoing short supply of modern warehouse facilities is forcing many companies to refurbish and reconfigure existing building stock in an effort to maximize the amount of storage space they have available and free up areas for 'pick and pack' and product returns processing."