Toyota has launched a new Traigo 48 electric forklift truck range which it says is nine per cent more energy efficient than its next competitor in class.
The new truck has improved electric power steering for. It has a compact chassis and ergonomic upgrades.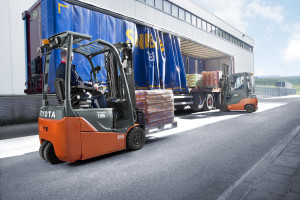 The 3-wheel models are available from 1.5 to 2.0 tonnes and are designed for manoeuvring in confined areas. The 4-wheel models, available from 1.6 to 2.0 tonnes, are designed for intensive operations in both indoor and outdoor environments and now have an improved turning circle.
They are also equipped with the Toyota System of Active Stability (SAS) and Toyota AC motors.
These trucks are available with the optional Lithium-ion battery technology which allows for fast opportunity charging at any time.
Dave Rylance, counterbalance product manager said: "This truck range is an important step forward thanks to the offer of Li-ion batteries as a standard option, which reduces the need for battery change in many operations and pre-operational checks, giving operators the option of managing their truck safely and efficiently thanks to Toyota I_Site truck management".