Next's new 58,000 sqm distribution centre at G.Park Doncaster is on course for completion early next year.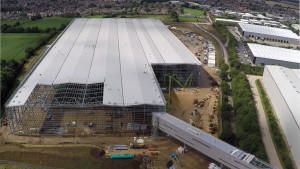 Adept Civil and Structural Consulting Engineers is working on the project alongside contractor Bowmer & Kirkland, and steelwork contractor Billington Structures.
The new building is next door to the retailer's existing DC. A conveyor link bridge on the north east corner of the new DC is currently being built to enable stock to be transported to the existing warehouse.
The new distribution centre, which is located at IDI Gazeley's 115 acre G.Park in Doncaster, is set to be one of the largest in the UK.
According to Adept, the project is "well underway," with 5,000 tonnes of steel being used to build the distribution centre.
"Our firm has been responsible for both the concept and detailed design on this exciting project and we are delighted to be working on it," said managing director of Adept, Erol Erturan. "With this project for Next, and a raft of other distribution centre builds starting or under construction at the moment, it's a very positive time for this sector of the market."
"The bridge will be a four span 120 metre long structure formed with a series of trusses to accommodate the double deck configuration. The lower deck will feature conveyor belts for transporting goods and the upper deck will be a pedestrian thoroughfare for staff."
Ben Howard, Bowmer & Kirkland's project manager, said: "It's a large scale complex project that demands skilled design teams who are highly experienced and professional and we are confident with the joint efforts of everyone working on this project, the distribution centre will be completed by early 2016."