The NHS has renewed its contract with Fraikin for the management of 350 Blood and Transplant vehicles including emergency response cars, vans and 7.5 tonne reefers.
The three year contract specifies some tough KPIs, including a minimum 98 per cent vehicle availability, a 100 per cent MOT pass rate and a first-fix rate for any breakdowns of 99 per cent.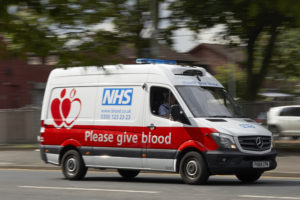 Tom Hammond, national fleet services manager at NHS Blood and Transplant, said: "The reliability and efficiency of our emergency vehicles is paramount to the service we provide; an unexpected breakdown can literally be the difference between life and death.
"The national reach of Fraikin's mobile technician network ensures any unexpected issues we encounter are handled quickly and effectively, while the company's ability to structure a bespoke maintenance plan to fit around our fleet, while also adhering to strict Key Performance Indicators, is first class – as it has been since 2002.
The maintenance schedule is managed by a team at Fraikin's headquarters in Coventry, which also provides a 24/7 helpline for any immediate issues. The contract also includes relief vehicle cover from Fraikin's rental fleet to replace any assets that are booked into the workshop.