Robotics & Innovation is now out in print, online and for iPad and Android.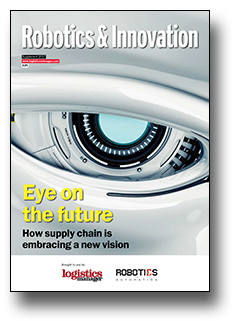 ROBOTICS & INNOVATION
Analysis: Exclusive Survey
How do supply chain professionals view the development of robotic systems? Our robotics and innovation trend survey reveals all.
Automated Warehouses
Complex designs in the retail market show more reliance on the warehouse..
Robotics In Industry
An increasing number of activities can benefit from using robots..
Innovation In The Supply Chain
The supply chain is experiencing some exciting new developments…
Robotics & Innovation is available now, price £25. To get your copy, contact Daniel Jessop
---
Click here to subscribe to the print edition of Logistics Manager