Ocado Group has won a deal with French retailer Groupe Casino to develop a grocery e-commerce platform in France involving the construction of a robotic customer fulfilment centre.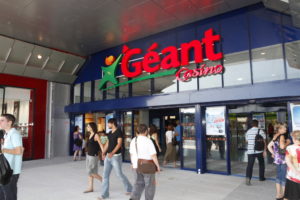 According to Ocado, the platform, called "Ocado Smart Platform", is a unique answer to the opportunities and challenges posed by shifting offline/online trends in grocery.
Ocado said that Groupe Casino would have access to its end-to-end solution, "including the construction of its latest generation, state-of-the-art automated warehouse (for which Ocado will invest to install its grid and its robots), Ocado's best-in-class front-end web site functionality, last-mile routing management and big data, real time implementation."
In a statement Ocado said the agreement: "sets out plans for the immediate initiation of the development of a customer fulfilment centre using Ocado's proprietary mechanical handling equipment to serve the Greater Paris area, the Normandie and Hauts de France Regions."
The build and launch is predicted to take at least two years. Groupe Casino and Ocado will consider further development of other fulfilment centres close to other large urban areas.
"Groupe Casino is pleased to announce the agreement with Ocado Group which will allow it to develop an integrated customer and logistics platform, considered the best in the market," said Jean-Charles Naouri, CEO of Groupe Casino. "This agreement is a major leap in terms of quality: 50,000 food items will be offered in the first stage to customers in the Greater Paris area with precise and speedy delivery at home and through a platform which makes it achievable to do this profitably.
"Groupe Casino is very proud to have sealed this deal with Ocado which will further strengthen the quality of service available to its customers, at the core of its commitments for 120 years."
Tim Steiner, CEO of Ocado, said:"We are delighted that Groupe Casino has decided to partner with Ocado Solutions to grow and develop its online food business. We believe that the scalable, modular end-to-end solutions provided by the Ocado Smart Platform, will allow retailers such as Groupe Casino to build their online grocery offer in a way that is profitable and sustainable, creating value for customers, suppliers and shareholders. We continue to make investments to commercialise our proprietary platform and expect this deal to be one of many successful collaborations with leading retailers to use it the world over."