Ocado is pushing ahead with plans to open two new fulfilment centres following significant rises in sales and profits last year.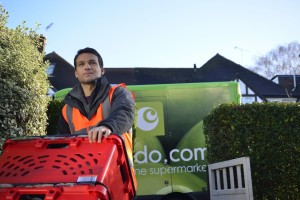 Pre-tax profit rose 65 per cent to £11.9m at Ocado in the year to 29th November, while revenue was up 16.7 per cent at £1.1 billion. EBITDA rose 13.8 per cent to £81.5m.
Ocado now plans to open its third Customer Fulfilment Centre, at Andover, shortly. This will have Ocado's proprietary handling systems and will add 65,000 orders per week at an estimated cost of £45m.
Its fourth fulfilment centre (CFC4) at Erith in Kent is due to open at the end of 2017. This will add the capacity to handle 200,000 orders per week. This will also use Ocado's proprietary technology. The cost of the MHE system is estimated at £135m.
In the last financial year, Ocado said that delivery efficiency improved from 163 deliveries per van in 2014, to 166 during the same period in 2015. At the same time, mature Customer Fulfilment Centre operational productivity increased from 145 units per hour in 2014, to 155 units per hour last year.
On time delivery was maintained at 95.3 per cent and order accuracy also remained the same at 99.3 per cent.
New customer acquisitions were up over 20 per cent, and active customers up by 12.4 per cent to 509,000 (2014: 453,000). Order volumes also grew – with a 16.8 per cent increase to an average of over 195,000 orders every week (2014: 167,000 orders per week). The highest number of orders delivered in a week exceeded 225,000.
"We are pleased to announce results today which illustrate the progress Ocado has made through its clear focus on innovation and customer service," said Tim Steiner, chief executive officer of Ocado. "The continued enhancement of Ocado's industry-leading technology and investment into our retail proposition over the course of the year has meant our customers now have greater choice, competitive prices and consistently high order accuracy and on-time delivery.
"As a result, customer numbers grew, reflected in strong revenue growth in a very challenging market environment.
"Our ability to package our unique proprietary technology, including our equipment solution, for retail partners outside the UK through our Ocado Smart Platform is proving to be of great interest to a significant number of retailers," he said. "We expect to sign multiple deals in multiple territories in the medium term."