Palletforce is to open a 260,000 sq ft distribution centre on a 16-acre site next to existing 379,400 sq ft distribution centre in Burton upon Trent.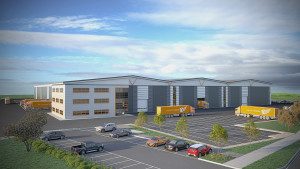 The new site will be developed by Goodman which developed the existing building at Centrum Business 
Park in 2009.
The new distribution centre will be directly linked to Palletforce's existing facility. It will operate 24-hours a day and provide 260,000 sq ft of storage space, capable of processing more than 30,000 pallets for distribution across the UK and Continental Europe.
Construction began at the start of October and is expected to take nine months 
with handover planned for mid-2017. Palletforce has signed a 15 year lease.
Once combined, the two facilities will serve as Palletforce's new 639,400 sq ft national distribution centre.
Goodman development director Nigel Dolan said: "Once complete, the new combined facility will be the largest of its kind in the UK and Europe and serves as a further example of Goodman's ability to deliver best-in-class build to suit warehouse and distribution centre solutions in strategic locations for our growing portfolio of customers. We look forward to delivering this project for Palletforce and continuing our long and successful partnership."
Goodman was represented by Cushman & Wakefield, CBRE and Avison Young.