Palletways has won a three-year contract with Parcelforce Worldwide – it will now act as the company's pallet service provider. Palletways will offer a number of service options including: a pallet AM service, a next-day and two-day delivery service.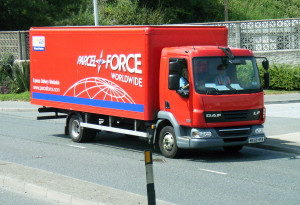 Customers will also be able to choose Saturday delivery and sameday collection up to 11am.
Rob Gittins, UK sales and commercial director, Palletways, said: "This contract reinforces the critical role that pallet networks today play in the logistics mix and their growing use by businesses of all sizes.
"We will be able to complement Parcelforce's own logistics offering with multiple pallet formats to support the differing freight profiles in today's demanding marketplace."
Gary Simpson, managing director of Parcelforce Worldwide, said: "There are many customers who want one supplier to provide both a parcel and pallet service, so we have partnered with Palletways who operate a high quality palletised network.
"We remain committed to providing customers with a parcels and pallets service to every postcode in the UK, and believe that Palletways are best placed to support our growth."