Pentalver is investing £5 million in materials handling from Briggs Equipment. The container services company is expanding its fleet with the addition of 19 new Hyster machines.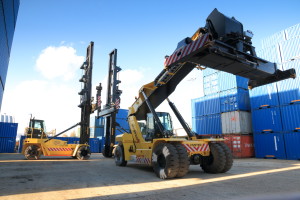 "Reliability is crucial to our success," said Chris Lawrenson. "Our customers rely on us and we, in turn, need to be able to rely on our suppliers.
"Briggs Equipment continues to impress us with the scope of its capabilities, high standards of customer service and commitment to helping us achieve our commercial objectives."
Eight of the Hyster machines will be used at the company's Felixstowe terminal, six at Southampton, Tilbury will take three, and Cannock will take two machines.
Paul Giles, ports and terminals business development manager at Briggs Equipment said: "During the past 18 months our dedicated account managers, customer contract managers and regional service managers have worked in partnership with Pentalver to help drive up productivity by ensuring maximum utilisation of its Hyster equipment."