Container specialist Pentalver has invested in 26 Mercedes-Benz tractor units for its operations at Southampton.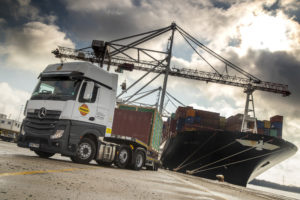 The Actros 2545 models, with GigaSpace cabs and Active Brake Assist 4 technology, were supplied by on contract hire by Marshall Truck & Van. They replace a previous fleet of Actros tractor units.
Pentalver was acquired last May by the US-based Genesee & Wyoming, which also owns Freightliner in the UK.
Shaun Allen, Pentalver's chief operating officer, said: "We invited all of the major manufacturers to tender on the basis of a revised specification which focused particularly on safety features, as well as value for money. It soon became clear that Mercedes-Benz had a definite edge over the competition in terms of accident prevention technology, particularly with its emergency braking system, while our previous experience with the Actros meant we knew it was more than up to the job."
Active Brake Assist 4 uses multi-mode radar to monitor moving and stationary objects in front of the vehicle, and sounds an audible warning when it senses potential for a collision. If the driver takes no action, it will apply staged braking followed by full braking power to prevent a crash, or dramatically reduce the effects of an impact.
The system incorporates pedestrian recognition. On detecting a moving pedestrian – even one stepping into the truck's path from behind a parked car – it can apply partial braking while simultaneously activating acoustic and visual warnings, up to a speed of 50 km/h.