One in five van drivers describe their current mental health as poor or very poor, according to research commissioned by Mercedes-Benz Vans to mark Mental Health Awareness Week 2017.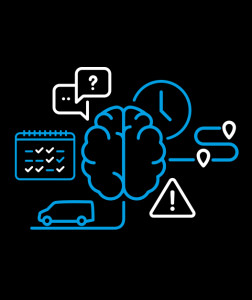 And three quarters of those affected said that work was contributory factor.
Mercedes has explored for the first time the issue of mental health within an often overlooked yet vital business community – the nation's van drivers, delivery professionals and van operators – who help to keep business moving.
The research, conducted among 2,000 van owners and operators, found that more than half of the van drivers with poor mental health said that increased time pressures (52 per cent) and increased workload (50 per cent) are factors affecting their mental health, with one in three believing that job uncertainty is contributing to their poor mental health and 17 per cent of delivery drivers adding that road congestion is impacting on their state of mind.
But only one in three van drivers who believes their mental health to be suffering have spoken to their manager about their concerns, with more than one in 10 (12 per cent) who haven't spoken to anyone about their mental health at all.
Steve Bridge, managing director of Mercedes-Benz Vans UK, said: "With a continued surge in online shopping, an increasing reliance on same-day deliveries and spiralling traffic volumes across the UK, the real-world pressures on van drivers are changing.
"Our research findings act as a clear call to van drivers to talk about their mental health concerns and work pressures with their employers and for employers to actively listen to the real concerns of their workforce not only during Mental Health Awareness Week but beyond."
More information regarding mental health and tips on how to look after it, can be found at www.mentalhealth.org.uk.