All five divisions at Deutsche Post DHL Group saw turnover and profit gains during the third quarter of 2019 as its chief executive said the business was growing "even in uncertain times".
Turnover at Deutsche Post DHL increased 4.7 per cent year-on-year in the third quarter to €15.6 billion while operating profit rose to €942 million from €376 in the same period a year ago.
Deutsche Post DHL Group chief executive Frank Appel said: "All five divisions performed well despite the challenging global economic environment. Thanks to our broad portfolio and the market-leading position of our divisions, we are growing even in uncertain times. For the fourth quarter, we anticipate a traditionally strong holiday season."
In its Supply Chain division turnover increased 2.3 per cent year-on-year to €3.3 billion, while operating profit was up 5.9 per cent to €162 million. In the first nine-months of the year it had added €694 million of additional contracts from new and existing customers.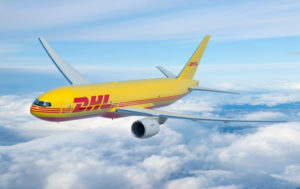 Volumes per day of international time-definite deliveries in its Express division increased 5.9 per cent year-on-year – as turnover for the third quarter was up 8.7 per cent to €4.2 billion, generating an operating profit increase of 11 per cent to €454 million.
Global Forwarding lost momentum in its ocean freight and overland freight markets during the third quarter but, despite this and overall weakness in global air freight markets, it still achieved turnover growth of 0.9 per cent to €3.7 billion and increased operating profit by 17 per cent year-on-year to €124 million.
Its eCommerce Solutions division registered third-quarter turnover growth of 5.4 per cent to €964 million and made its first operating profit of €6 million, while Post and Parcels turnover was up 5.5 per cent year-on-year to €3.7 billion as an operating loss of €202 million in the third-quarter a year ago turned into an operating profit of €304 million.
By Christopher Walton