Hands- free scanning solution provider ProGlove has launched its MARK 2 wearable barcode scanner at the IntraLogisteX exhibition which takes place on the 26 – 27 February at the Ricoh Arena, Coventry.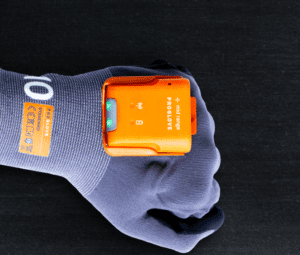 The MARK 2 follows from its predecessor, MARK One S which is suitable for 1D and 2D barcode reading from shorter distances. It was originally developed with BMW for an automotive setting.
The MARK 2 was developed for logistics purposes utilising Bluetooth connectivity. It enables long distance scanning of up to 150 cm depending on the barcode size.
It has up to 15 hours battery life and features improved optic, haptic and audio feedback functions. The scanning device can be mounted onto any desired glove.
This hands-free scanning solution can save up to 4 seconds per scan. Users include the likes of Ikea, which halved its scanning time to 3.5 seconds and SEAT is down to 3.12 seconds per scan.
More information here.