The final day of the IntraLogisteX Exhibition continued to attract cross-industry buyers from across the UK – a record year for the event, which has grown dramatically in size and popularity.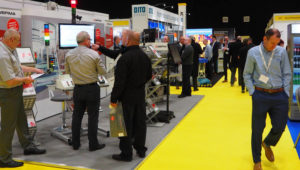 More than 130 leading logistics equipment suppliers exhibited their products at the exhibition, which took place at the Ricoh Arena in Coventry.
Gerbhardt ECS Ltd was displaying its new product 'Next', as part of the company's subsidiary 'Next Intralogistics'. The new automated roller conveyor system is now being leased in Germany for peak periods. Customers adapt the conveyor easily by unbolting and unplugging the system and wheeling it around the warehouse where needed – a simple system that needs no training. Once the peak period is over, customers can simply give back the product. The system enables customers to define their own routes via a tablet device, particularly useful in e-commerce warehouses where needs are changing all the time. The system isn't available on lease at the moment in the UK due to legal barriers.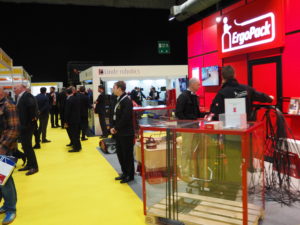 Linde Material Handling exhibited its automatic AGV for handling pallets at the exhibition. The technology has an infrastructure free navigation system – using a 3D camera which takes an image of the entire warehouse, rather than using sensors. The company were promoting more than just trucks at the event – they are also offering simulations of warehouses, safety scans, and racking – the company aims to grow its product portfolio, and become a total solutions provider rather than simply a forklift manufacturer.
Knapp was discussing its range of products and systems at its stand during the two-day exhibition. The company was particularly excited about its upcoming launch of its latest shuttle system called 'Evo', which Martin Kipping, Knapp business development manager, said was a major development for the business. The system previously offered only a single layer format – now it can change aisle and height.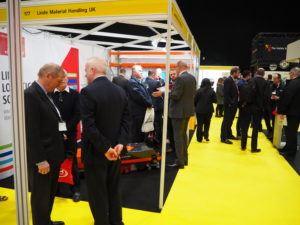 KONECRANES was exhibiting its new 'Agilon' intelligent storage and retrieval system. Described by the team as the "iPhone of the materials handling world", its internal system is a dynamic warehouse with a self-optimising algorithm. It organises products so that the most frequently used is at the front. If an item is removed the system knows based on changing weight; it also takes an image of the contents. As well as this the system is able to alert suppliers or operators when items are running low and need to be reordered.
But it wasn't just the stands that were busy. The second day of seminars at the event also proved to be a hub of interest for buyers at the exhibition. Philip Courtney MCILT, general manager national distribution centre and 3rd party operations at John Lewis, spoke about tackling next day delivery demands. Other seminars included XPO Logistics' Steph Tite, returns manager for the 3PL, talking about the returns strategy for retailers. Lucas systems explored dynamic work optimisation and digital automation – reducing labour costs while meeting increasing demand.
Social media response:
YuMi is having fun at @IntraLogisteX! Join us on Stand 45! #ILX18 pic.twitter.com/S3JIAYsagk

— CKF Systems (@CKFsystems) February 28, 2018
Day 2 of @IntraLogisteX in Coventry – starting off with an aerial picture from one of our drones! Come and chat to us on stand 167. #ILX18 pic.twitter.com/hd3lKQseO2

— WCS (@wwchainstores) February 28, 2018
We had a fantastic first day at @IntraLogisteX and are looking forward to another one. Come and see us on Stand 172 to learn how you can reduce your DC travel time by up to 70% #WorkSmarter #ILX18 https://t.co/vlbz2NoqeH

— Lucas Systems EMEA (@Lucas_EMEA) February 28, 2018
Dpd collects Curly Wurly after completing the #iocouriers What is Express survey. Join us at #ILX18 pic.twitter.com/13xdsniSIV

— Institute ofCouriers (@IOCouriers) February 28, 2018
All ready for day two of IntraLogisteX, thanks to everyone who stopped by including the likes of @MullerUKandI, @DHLsupplychain, @cevalogistics, @AldiUK, @BMWGroup and many more. Come and see us on stand 90 to find out why they visited us! #IntraLogisteX #ILX18 pic.twitter.com/gnTsbQQOQN

— Westgate (@Westgate_UK) February 28, 2018
Five words to describe Express "Whenever, whatever, wherever however. Ontime" David, #Sainsburys #ILX18 #supplychain #iocouriers pic.twitter.com/uFinSnJrk1

— Institute ofCouriers (@IOCouriers) February 28, 2018