Fresh produce supplier Reynolds has taken delivery of the UK's first low-entry Mercedes-Benz Econic tractor unit which will be used for multi-drop deliveries in London.
The Econic 1835L four by two was supplied by Ryder. It is derived from an 18 tonne Econic rigid chassis and, as the first of its kind, served as a prototype for Mercedes-Benz.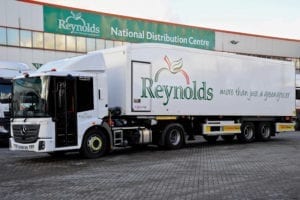 The Econic low-entry, high-visibility cab scores five stars on Transport for London's Direct Vision Standard.
The tractor is plated at 31 tonnes and pulls an 11m Gray & Adams dual-temperature tandem trailer with an under mount Carrier fridge.
"The Econic is a tried and tested vehicle in a tough sector like waste, and we see it – whether rigid or tractor – as a key component in our future fleet," said Steve White, head of fleet at Reynolds. "We were happy to work with Ryder to bring the tractor into service."
The vehicle, which replaces a four by two DAF tractor, is based at Reynolds' Waltham Cross national distribution centre and carries out multi-drop deliveries in London.
Paul Eve of Ryder, said: "We spent a lot of time working in partnership with Reynolds and Mercedes-Benz to develop this first Econic tractor and bring it into service… We look forward to helping other urban multi-drop customers in a similar way."