The Robotics and Automation exhibition is proving to be a big success, with hundreds of logistics professionals visiting to see the cutting edge technology on show on the opening day in Milton Keynes.
The exhibition moves into its second day at the Arena MK on Thursday, offering more opportunities to see the latest developments from a host of leading suppliers.
Exhibitors include ABB, a leading supplier of industrial robots and robot software, equipment and complete application solutions. ABB's Russell Holmes said: "The event is really good, nice and busy. A good range both from manufacturing and warehousing. It's also nice to see what other competition is doing."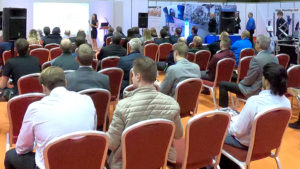 Katherine Johnson from KUKA, who was at the company's trailer exhibiting its latest robotics technology said: "Our stand is really popular, a great event to launch the new trailer that we are demonstrating. We've had a lot of people visiting the trailer to see the robots and ask questions."
Managing director of Guidance Automation, Dr Paul Rivers, said: "It's been very, very good. I brought seven members of the team so thought it might look overcrowded. But they've all been really, really busy. The whole automation world is booming."
The exhibition also hosted a number of seminars, so visitors could learn in detail about the products and technology on show at the event.
This included Lucas System's seminar, where Andrew Southgate spoke about its dynamic work optimisation tool, which involves an algorithm that works in seconds. He said that the software is made up of three things that boost efficiency:
Works out optimum batching of orders.
Data from the customer.
Optimising picking paths.
Southgate said of the software: "It's dynamic, not static"
Eleanor Baverstock, account manager from ABB Robotics, Distribution and Fulfilment held a seminar focusing on how to make automation flexible.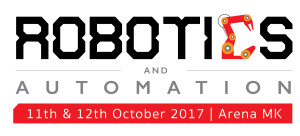 ABB has recently invested in distribution and fulfilment – it is refashioning robotics in production, and introducing the technology into logistics.
She said that nowadays, goods to person has reached its limit, adding that logistics operators are now looking for more.
"We need a revolution in logistics" she said. The seminar listed customer demand, rise in e-commerce, industry competition, limited and expensive labour and space limitations as the main reasons for the need for change.
She added that the industry now needs to look beyond fixed automation.
ABB sees the future of logistics as a lot more automated and roboticised. Baverstock said that the company sees the future as: goods transported on a conveyor to a typical ASRS which is then fed into a robotic de-palletising into a tote. The tote is then fed into fixed and traditional automation, which is brought to outbound, fed into a robotic sequencer. It is finally robotically palletised at the end of the system.
The Robotics and Automation exhibition continues on Thursday 12th October at the Arena MK.