Robotics & Innovation, the special supplement to Logistics Manager, is out now in print and online.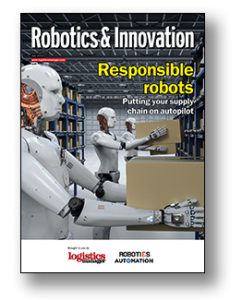 Cover story:
Supply chain: Handing over the reins to robotics and AI…
With the adoption of robotics and artificial intelligence growing, experts are saying these technologies could act as the autopilot for supply chain. We explore where the technology is being used, and outlines the risks associated with handing over responsibility…
 Manufacturing: Operations that work together, stay together…
The use of robotics in the factory can be traced back to the 1970s and their presence continues to grow. We explore what's fuelling their popularity and the innovations behind it…
Automation: How can automation go that extra mile to improve operations?
Automation is swiftly becoming a staple in many warehouses and with changing consumer demands the emphasis on warehouse operations has never been higher. How can automation innovation go that extra mile to improve operations?
Politics of robots: Learn to love your robot…
The arrival of new-fangled textile machines in the early 19th century led to the rise of the Luddite movement. Is there a risk that today's robot revolution could spark a similar reaction, and how can people be encouraged to love their robots?
Drones: Droning on – how loud is the buzz around drones?
As more and more companies like Amazon, UPS and Renault begin to invest and explore drone technology you can't help but wonder if the buzz around drones is growing louder or if it's all smoke and mirrors?
Exhibition: The Robotics and Automation exhibition continues to grow…
The Robotics and Automation exhibition will take place at the Ricoh Arena, Coventry on the 29th and 30th of October 2019 and is set to be bigger and better than ever…
---
To get your copy, contact Daniel Jessop, tel 020 7953 3005. Email: [email protected]