Ocado is ramping up operations at its new customer fulfilment centre at Andover after increasing sales by 13.6 per cent to £1.27 billion last year.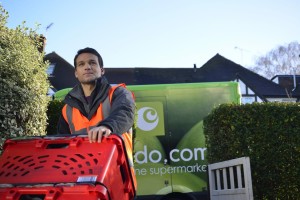 The Andover CFC started operations in November. It uses Ocado's proprietary modular fulfilment system which the company said can pick an entire order in less than five minutes compared to two hours in its earlier CFCs.
It is also continuing to develop its fourth CFC at Erith in South East London. The building is now complete and fit out works started during 2016. Operations are due to start in 2018.
Some 30 per cent of the Erith CFC capacity will be use for Morrisons.com under an extension agreement that was signed during 2016.
Ocado also plans to open a second general merchandise facility in 2018 to enable our general merchandise sales to continue to grow rapidly.
In its delivery operations, Ocado has enhanced its routing system to increase availability of Sunday delivery slots and improve customer density.
It said these changes helped increase deliveries per van per week across all shifts to 176 compared to 166 in 2015. It also increased delivery capacity opening two new spoke sites in Peterborough and Crawley, while relocating operations from, and subsequently closing, the Southampton spoke to the Andover CFC.
Retail sales for the year to 27 November were £1.27bn, 13.6 per cent up on the year before. EBITDA was £84.3m, 3.3 per cent up on the previous year.
Chief executive Tim Steiner said: "Over the course of the last year, we grew our active customer base by almost 14 per cent, with growth in average orders per week approaching 18 per cent, testament to the strength of our customer proposition, market position and technology. We commenced operations at our new Customer Fulfilment Centre in Andover, which has the first installation of our new proprietary technology.
"At the same time, we have made good progress in improving the efficiency and throughput of our existing operations, increasing our capacity from existing facilities by over 20,000 weekly orders. These developments position us well for future growth, while improving our returns and enhancing the service we can offer our customers."