The September 2017 edition of Logistics Manager is now out online. It is also available on iPad and Android.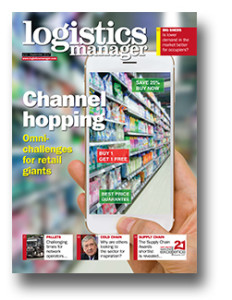 Channel hopping
What is driving your omni-channel and multi-channel logistics?  Maria Highland looks at the challenges…
A world of difference
Operators are facing a range of challenges in this fast developing business.
Stay cool and carry on
The importance of the temperature controlled logistics sector is highlighted by the fact that its way of working is increasingly being adopted in ambient grocery. But the sector is facing challenges of its own.
Out with the old…
The narrow aisle truck market is  conjuring up new technologies to maximise performance.
    
Trail-blazers
Innovation is the name of the game in the trailer market, as manufacturers respond to dramatic shifts in transport patterns.
Power to the revolution
Demand is down but does that mean the outlook is better for occupiers? We investigate.
---
Supply Chain
Analysis
Brexit:  Customs plan welcome – but industry has more to do
A proliferation of peaks
Ethics: First admit you have a problem
Awards
A record 88 entries have been shortlisted for the 21st Supply Chain Excellence Awards.
Buyer beware
The challenges in sourcing and procurement have been mounting with the move to on-shoring, the impact of Brexit, and the potential to use artificial intelligence.
Click here to read the online edition.
---
Click here to subscribe to the print edition of Logistics Manager