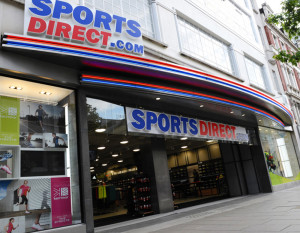 Sports Direct founder Mike Ashley is to oversee a review of the company's employment practices for temporary warehouse and retail staff, following allegations in the press and parliament.
In a statement, the board of Sports Direct rejected a string of allegations about its use of temporary staff at its Shirebrook warehouse. In particular, it said:
* No Sports Direct employees are engaged in the Shirebrook warehouse on a 'zero hour' contract, and the main agencies have confirmed to us that none of their workers are engaged on a 'zero hour' contract.
* Neither agency workers nor employees are subjected to 'naming and shaming' via publication of a league table identifying individuals by name. The Company uses an anonymous ranking system to monitor performance.
* The warehouse Tannoy is not used to 'harangue' or 'name and shame' staff; the Tannoy is used for logistical reasons, for example, to redeploy staff to other areas of the building or to let staff know that a truck is waiting for stock to be dispatched.
* Sports Direct does not penalise its staff for being ill. Sanctions may be applied if workers fail to follow the Company's reasonable sickness absence notification procedures, which are in line with industry best practice. The Company is not aware of any occasions on which sick children have not been able to be collected from school by their parents. Sports Direct allows staff time off to look after dependants in such circumstances.
* Neither Sports Direct nor the agencies it uses discriminate in favour of or against any applicant or worker on the basis of nationality or for any other reason.
* All companies have to be cognisant of theft from warehouse operations. As such, there is a need for some security measures to be in place at Shirebrook. One simple and sensible way of managing this issue is to ensure that workers do not wear the clothing brands stocked in the warehouse.
* All employees, agency workers and visitors, including executive management and Board members, are subject to random searches on leaving the Shirebrook warehouse. Trained security staff conduct random searches and the Company continues to keep the process under review, with the aim of reducing any inconvenience to staff as much as possible.
Labour MP Chuka Umanna took up the issue in parliament following allegations made in "The Guardian" on 9th December.
The Sports Direct statement, issued on 18th December, said: "Sports Direct always seeks to improve and do things better, listens to criticism and acts where appropriate. With that in mind, as noted above, the Board has agreed that Mike Ashley shall personally oversee a review of all agency worker terms and conditions to ensure the Company does not just meet its legal obligations, but also provides a good environment for the entire workforce. We expect him to start that work in the New Year."