SSI Schaefer, manufacturer of warehouse logistics systems, has acquired a majority shareholding of gantry robotics company RO-BER.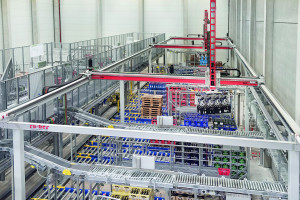 It said this move will 'increase the level of expertise at SSI Schaefer in an important future technology.'
The partnership has already finished big international projects using robot technology – including at a drinks warehouse in Germany, where they have implemented a gantry robot-assisted fast mover picking system.
The company said gantry robots 'allow specific and totally new solutions to be developed with regard to sorting, buffering and linking functions'. The partnership hopes to open up opportunity to develop 'highly innovative automation solutions'.
"High-performance robotic applications are now a key factor in integrated automation solutions in intralogistics," said Elmar Issing, vice president robotics & innovations at SSI Schaefer.
"Our involvement with RO-BER increases the range of solutions for our customers in another key future technology, and completes the product portfolio in robotics with intelligent control technology."
"In the market, SSI Schaefer and RO-BER have a lot in common with regard to customers and industries," says Dr Hans Gerd Severin, managing director of RO-BER. "The inclusion of our standardised robot systems in their concepts complements the SSI Schaefer product portfolio perfectly, especially for end-of-line palletising and in picking systems."