The first Starship delivery robots are set to take to the streets in the UK, Germany, Switzerland and USA in the next few weeks.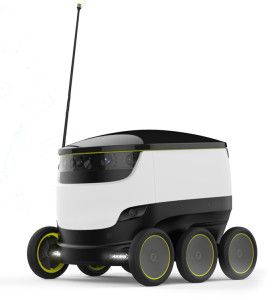 They will deliver groceries and online purchases to consumers starting in August/September. The robots are specifically designed for deliveries within a two to three mile radius and are expected to deliver goods in 15 to 30 minutes.
The robots can drive autonomously while being monitored by human operators in control centres.
Starship Technologies was established in 2014 by Skype founders Ahti Heinla and Janus Friis. Allan Martinson, COO of Starship Technologies, says delivery robots are cheaper for last mile delivery than ordinary carriers costing between 50 cents and $1 per delivery. The cost of a van and driver means that the comparable cost of a conventional scheduled delivery $1.50 to $3.
The Starship robot weighs 15 kg and can carry goods up to 13 kg. It runs at a top speed of 6 km per hour and is almost entirely self-driving. It drives autonomously using computer vision and GPS, but in the short term, needs to be human-assisted when crossing the street or passing areas with road construction.
It has nine cameras, an advanced obstacle detection system, sensors and GPS installed to prevents it from bumping into someone or something, and makes it possible to monitor and control the robot at any time. One operator is able to operate 100 Starships at the same time when running at 99 per cent autonomous driving.
Martinson says the robot has been tested in 12 different countries and has driven over 7,000 km.