Starship Technologies has appointed Lex Bayer chief executive and received €21.4 million in additional funding to aid in commercial roll out of its autonomous delivery robots.

Starship Technologies' robots have now covered over 100,000 miles around the world in over 100 cities over 20 countries and is ready to begin commercial roll out of its product.
The funding is coming from existing investors such Matrix Partners and Morpheus Ventures, and new investors include Airbnb co-founder Nathan Blecharczyk, Skype founding engineer Jaan Tallinn, former chairman and CEO of Metro-Goldwyn-Mayer, Gary Barber.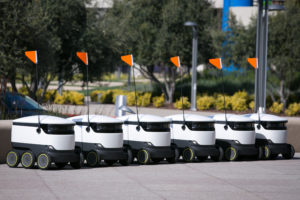 "This additional funding will allow us to deploy our robots in neighbourhoods as well as corporate and university campuses in the US and Europe," said new Starship CEO Lex Bayer. Bayer previously worked for Airbnb and led the business development, payments and Airbnb for Businesses functions of the company.
Starship is "ready to start deploying our network of robots at scale. This additional funding, and Lex's appointment, will allow us to bring our services to market," said Starship co-founder Janus Friis.