Starship Technologies has become the first autonomous delivery service to complete 100,000 commercial deliveries. The company made the announcement as it closed US$40m in Series A funding and revealed plans to expand its service to 100 university campuses around the world in the next 24 months.
With the closing of this latest investment round, Starship has now raised a total of US$85m. This funding has enabled the company's zero-emission delivery robots to be installed at the University of Pittsburgh in Pennsylvania, USA, with a fleet also set to launch at Purdue University, in Indiana, USA, in September.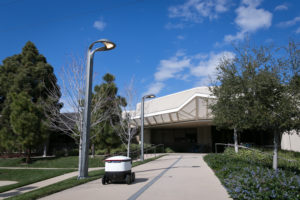 "This new investment will see Starship expand onto more campuses as we head towards a goal of offering our service to over one million students," said Lex Bayer, CEO of Starship Technologies. "An entire generation of university students are growing up in a world where they expect to receive a delivery from a robot after a few taps on their smartphone. The reception to our service both on campuses and in neighbourhoods has been phenomenal."
Starship rolled out robot delivery to US university campuses earlier this year in partnership with foodservice management company Sodexo, starting with George Mason University, in Fairfax, Virginia, where it launched what was then the world's largest robotic delivery fleet, and later to Northern Arizona University, in Flagstaff, Arizona. Since the initial launches, both campuses have reportedly increased the number of robots, dining options and hours of operation to meet demand for the service.
Starship's battery-powered robots use a combination of sensors, artificial intelligence, and machine learning to travel on pavements and navigate around obstacles. To date, they have travelled more than 350,000 miles and crossed four million streets, delivering more than 6,000 pizzas, 32,000 litres of milk, 8,000 coffees, 9,000 sushi rolls, 15,000 bananas, as well as over 3,700 nappies.
*****