Starship Technologies has started the commercial roll-out of autonomous delivery services for corporate and academic campuses across Europe and the US.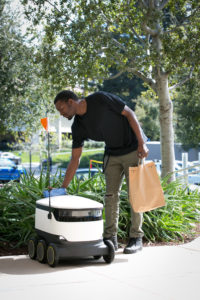 This is the first large scale deployment of Starship's robot vehicles, and comes on top of continued growth in robotic food, grocery and parcel delivery in residential neighbourhoods.
"We've already partnered with Compass Group on the Intuit Mountain View campus in the US to provide accessible, convenient and sustainable robotic delivery," said chief executive Ahti Heinla.
"After a successful start to the year and great reception to our robots, we are planning to dramatically expand our services and distribute thousands of robots across campuses around the world by 2019."
Robots developed by Starship Technologies have now covered over 100,000 miles around the world in 20 countries and over 100 cities, encountering over 15 million people along the way.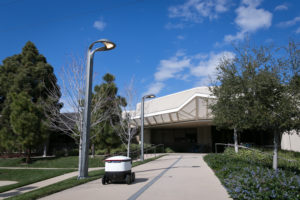 On Intuit's Mountain View campus, workers can order food and drink via the Starship app for delivery throughout the day across all 4.3 acres of the Intuit campus. On average, a Starship robot takes 17 minutes to deliver food, coffee or snacks on the campus, giving people more time to be productive or enjoy their breaks around their campus, instead of standing in line.