Stertil Dock & Door Products has upgraded and refurbished an installation of loading bays for AAH Pharmaceuticals, the distributor of healthcare products and pharmaceuticals. Stertil designed and upgraded the company's vehicle loading and unloading facilities.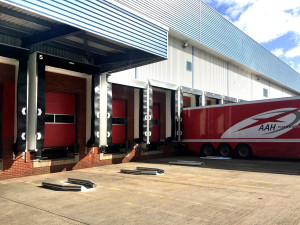 The upgrade took place at the pharmaceutical company's Tamworth distribution centre, and involved upgrading 18 existing docks into 16 lorry docks and two van docks.
"The upgrade of our loading bay areas has transformed the efficiency of our distribution procedures," said Dave Baker, manager of AAH Pharmaceuticals' Tamworth site. "We are now much better able to cope with a greater variety of vehicles and delivery vehicle turnarounds are considerably quicker.
"Also, the incorporation of panoramic windows into the overhead doors has made the bays themselves much brighter to create a greatly improved working environment."