FedEx produced a strong performance in the UK with turnover rising 6.3 per cent to £244.8 million in the year to 31st May 2015, according to the company's latest accounts. Operating profit was up 4.4 per cent at £35 million for the year.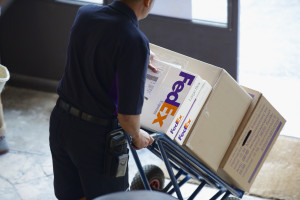 The quantity of parcels handled by the FedEx network during the year was 58.6 million – up by 5.6 per cent on the previous year. As well as its own network of depots, FedEx has a number of franchises in the UK.
FedEx is now well down the road to taking over TNT Express. TNT's principle business in the UK is TNT UK which turned over £724.9 million in the year to 31st December 2014 – 2.4 per cent down on the year before, according to its latest accounts. The company said the fall in turnover was due to a decline in revenue from international consignments following poor trading conditions in the Eurozone.
TNT UK produced an operating loss of £18.3m for the year – up from a loss of £9.5m in 2013.