Superdry is install 46 Hikrobots in its Burton-upon-Trent DC this spring, in an expansion of the retailers' existing goods-to-person systems, following a pilot project in 2018.
The enlarged operation will handle the entire picking and put-away of womenswear for retail, e-commerce and wholesale at Superdry.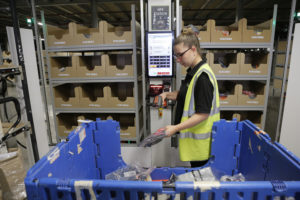 Over 80,000 sq ft of the warehouse is being set out with 1,000 transportable pick-wall modules and twelve pick-to-light stations to facilitate the adoption of the robots. The site is also being prepared for the robot fleet by positioning QR codes on the floor for the robots to follow.
The pilot project for handling e-commerce returns was conducted in 2018, involving six autonomous Hikrobot carriers at the Burton-upon-Trent DC, which is operated by Clipper Logistics. Superdry, along with Clipper Logistics, were the Overall winner at the 2018 Supply Chain Excellence Awards having won the Supply Chain Strategy & Design Award.
The robots were trialled beneath an 8,000 sq ft mezzanine area of the warehouse to see how they performed. Following the project, Superdry deployed a further fleet of 20 Hikrobot carriers in January to handle continental e-commerce returns at its European DC in Belgium run by Bleckmann Logistics.
Gordon Knox, director of logistics at Superdry, said: "The adoption of robotics has come about through a requirement to cut operating costs and to reduce our reliance on labour. The headcount we needed to attract during peak periods was resulting in us having to adjust our pay structure beyond what we ideally wanted to pay.
"To increase outbound capacity, it wasn't just a matter of hiring 10 more pickers, it was a case of ramping up other activities, such as replenishment, to support those additional pickers."
Learn more on Logistics Manager
Hikrobot launches AMR range in UK
Locus Robotics primes warehouses for AMR deployment
AMH Material Handling appointed distribution and service partner for Geek+
Knox said the use of robots did not feature in Superdry's initial thinking when it came to the use of automation, and the business had considered investing in an automated storage and retrieval system to handle returns.
He explained that this would have required heavy equipment being bolted to the floor and was not flexible enough for any future changes that may occur in the business.
"This was a wake-up call on the level of flexibility we required," said Knox. "So when it came to looking at using automation to speed-up the processing of e-commerce returns – making them available for sale again quickly – we looked at the huge flexibility robots could offer us in an automated goods-to-person system."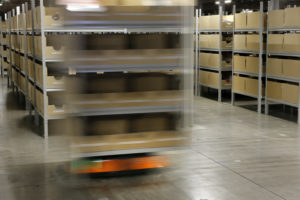 Superdry worked with with Hikrobot systems integrator partner Invar on the development and deployment.
"The more we looked at the capability and flexibility of robotic systems the more we could see how they could be used within our operations," said Knox. "So we decided to test the concept. In the Autumn of 2018 we brought in six Hikrobot robots, which we viewed as having just about enough capacity to deal with our UK e-commerce returns – getting them back and ready for resale as quickly as possible.
"As the system involved putting stock away and picking at various velocities and volumes, it was a great test-bed for multiple applications of the system. We found that inventory accuracy was significantly improved and the tests far exceeded our expectations on throughput and productivity.
"The installation of the Invar pick-to-light system and the setting up of the Hikrobot carriers to follow the QR codes all went really well," said Knox. "It has been a real partnership experience working with Invar and Hikrobot, and we've certainly benefited from learning about the full capabilities of the robots and the flexibility of the system."
HikRobot (stand 330) will be at IntraLogisteX 2020, which will take place on 28 and 29 July at the Ricoh Arena, Coventry. The show moved to July in the light of measures to curb the coronavirus pandemic.