Six entries have been shortlisted for the DP World Award for Retail Supply Chain Excellence, all working in partnership with either technology vendors, 3PLs and supply chain service providers.
DP World Award for Retail Supply Chain Excellence recognises techniques, projects or processes and achievements in an omni-channel environment and the winners will be revealed in a virtual ceremony on 12 November.

You can discover who wins the award by registering for one of two broadcasts on the day:
Register here for the 3.30pm broadcast.
Or register here for the 7.00pm broadcast.
KinKind with Omni Channel Fulfilment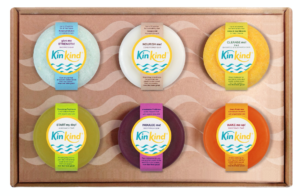 On average in the UK each household uses 480 plastic bottles per year, and less than half of that is actually recycled. In the personal care market, brands are focussed more on ingredients and in ensuring their plastic is recyclable than in re-imagining the complete supply chain, from product to packaging, through to final mile delivery.
Enter KinKind with its visually striking range of plastic free, vegan friendly shampoo, conditioner, body wash and shave bars. The bars are handmade in the UK and delivered in large letter format mailers, with fitments to secure the bars, so they can be delivered straight through your letter box, optimising  convenience as an e-commerce purchase.
KinKind operates in a very competitive market dominated by big brands. Rather than being daunted, KinKind have instead crafted a careful marketing strategy which includes grass root community action. KinKind recycles 25% of its profits into projects that help families make the most of our environment with KinKind customers voting on the projects to invest in.
The judges said that the utilisation of supply chain knowledge to drive product/packaging design was "impressive".
ASDA with Packaging by Quadient and Clipper Logistics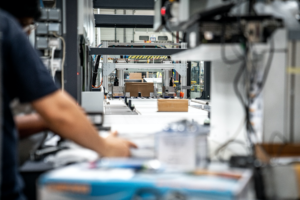 ASDA's desire to reduce the amount of cardboard used when packing George Home e-commerce orders, combined with a wish to remove capacity constraints during peak periods, led the business to acquire a state-of-the-art automated packing system that tailor-makes parcels at the rate of 500 packages per hour – combining multiple items, if required.
Picking and packing some 31,000 units a day of general merchandise at peak is quite a challenge. Following the installation of Quadient's CVP Impack in September 2019, ASDA has been able to dramatically increase (from 30 to 60) the number of boxes per pallet dispatched, which has enabled ASDA to remove one 40ft trailer a day from the road – a major environmental benefit and a significant cost saving. The business also buys around 30% less cardboard for the same volume of orders and, as the machine creates a snug fit, the use of void-fill and bubble-wrap has been eliminated and breakages / returns have been reduced.
A further critical benefit is that by using the CVP Impack, pressure on labour resources during peak periods has been reduced, which has allowed for future growth.
The judges praised a "well developed project" that demonstrated benefits.
ZigZag Global
ZigZag Global is a SaaS platform helping retailers to manage their returns globally.
The ZigZag platform connects retailers to an international network of 220 warehouses and 200 carrier services in over 130 countries – all from a single integration. ZigZag uses predictive analytics to understand whether a retailer should hold and resell returned products in local markets or bring them back via consolidation, in the most cost-effective and energy-efficient way possible.
ZigZag's mission is to deliver the best technology and service to transform the returns experience by reducing the cost, waste and friction associated with returns, whilst boosting customer loyalty, profitability and sustainability. ZigZag's returns solution will now offer dynamic exchanges for its retailers' customers. ZigZag's online retailer-branded portal now allows users to exchange any item in their basket they wish to return with another from the retailer's catalogue. The platform will provide the customer with various appropriate replacement options, ranging from different colours and sizes, that the retailer has in stock.
The judges praised an impressive presentation during the judging process, that used real-life examples to bring the story to life.
Superdry with Invar Systems and Hikrobot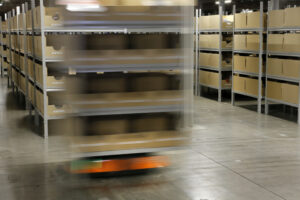 To support future growth, global fashion brand, Superdry, is leveraging the flexibility of intelligent mini-robot carriers from Hikrobot to transform order picking and put-away – just part of a phased roll-out of goods-to-person robotics that is set to boost productivity and capacity across its international network of multi-channel fulfilment centres.
A successful pilot project for handling ecommerce returns was conducted in 2018, involving six autonomous Hikrobot carriers at the company's UK distribution centre in Burton-upon-Trent. Following the success of the project, Superdry went on in January 2020 to deploy a further fleet of 20 Hikrobot carriers to handle continental ecommerce returns at its European DC in Belgium.
This spring, the Burton-upon-Trent site saw the installation of 40 more Hikrobot robots in an expansion of the existing goods-to-person system. The enlarged operation handles the entire picking and put-away of womenswear for retail, ecommerce and wholesale. Over 80,000 sq ft of the warehouse has been set out with 1000 transportable pick-wall modules and the area is equipped with a total of twelve pick-to-light stations.
Menswear will follow later with an estimated requirement for 60 more robots and expectations are for the further deployment of Hikrobot carriers in Belgium and the USA.
The judges said this entry was a "great example of all parties working together".
Waterstones and Unipart Logistics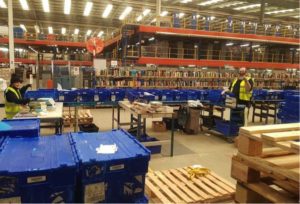 It's not news that Covid-19 has been a market force unlike any other. Forced into an immediate lockdown on 23rd March Waterstones, amongst many of Britain's other high street retailers, moved from operating in an omnichannel environment to a single channel environment instantaneously. With online sales as its sole source of revenue, consumer buying behaviour had literally shifted overnight and Waterstones found itself competing for survival amidst long established online retail giants who already dominated the digital space.
Indeed 96% of Waterstones' revenue has historically been derived from stores with only 4%
from online sales. Together with Unipart, Waterstones needed to adapt its operations to fulfil its brand promise to current consumers as well as accommodate a new and fast growing online demographic, at record pace. All this with the added complexity of maintaining business continuity amidst an international health crisis where safety of employees and customers was critical.
The judges said that the "passion really came through" in this entry and it was clear the teams worked really well together and built a great relationship.
Speedy Freight
Speedy Freight operates over 60 branches across the UK. A network of dedicated courier services means urgent or sensitive freight can be collected within 60 minutes of booking and delivered anywhere in the UK. Speedy Freight moves any size or shape of consignment, with access to a fleet of 4,000 vehicles across the country, ranging from full-weight artics to small vans. A 24/7 business operating 365 days of the year, Speedy Freight delivers, whatever to wherever.
Speedy Freight is part of the Eddie Stobart Logistics family which enables them to deliver innovative supply chain solutions. Including specialised offerings in transportation, warehousing and value added services, all of which have helped develop strong partnerships within a diverse customer base.
Speedy Freight operates a business-to-business solution for a number of leading retailers from kitchen retailers and high end furniture retailers to high street fashion and entertainment brands. During Lock-down, deliveries scaled up for one particular retailer, from four daily runs to 925 in weeks, demonstrating network strength and the ability to adapt quickly. Concurrently, it supported the national effort to move PPE equipment, increasing the movement of medical related consignments by 200%.
Meet the Sponsor:

DP World: DP World London Gateway is the UK's most integrated logistics hub, comprising of a state-of-the-art, semi-automated, deep-sea container terminal and Europe's largest development space for warehousing and distribution facilities.