Global supply chain risk hit a three year high in the third quarter of 2016 driven by increases in Europe, the Middle East, Latin America and sub-Saharan Africa, according to the CIPS Risk Index which is produced by Dun & Bradstreet.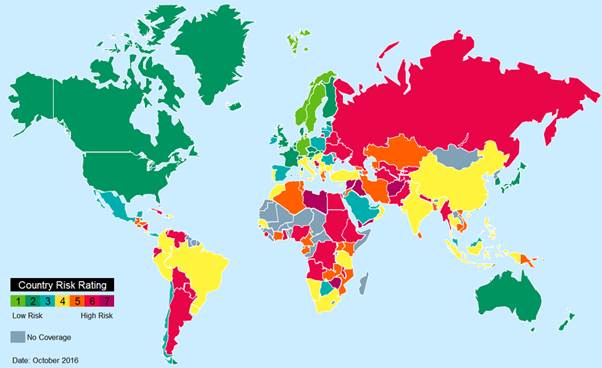 The index grew for the fourth consecutive quarter, rising to 81.6 from 80.8 in in the second quarter, its highest since 2013, driven in part by a disintegration of the political consensus over globalisation, with the World Trade Organisation reporting an average of 22 new trade restrictive measures a month in its latest report.
The index, produced for the Chartered Institute of Procurement & Supply (CIPS) by Dun & Bradstreet economists, tracks the impact of economic and political developments on the stability of global supply chains.
In Western Europe, risk rose to 2.63 in Q3 from 2.60 in the previous quarter. The uncertainty around the post-Brexit relationship between the UK and the European Union has had a negative impact on trade and business sentiment in the UK and across the region. In the UK, the resulting currency volatility is having an immediate effect on British businesses with suppliers starting to push up prices in reaction to the weaker British pound.
The report highlighted the recent stand-off between Tesco and Unilever arguing that it looks to be only the first of many challenging negotiations for British procurement teams. Supply chain managers will be waiting to see where the pound settles before making any long-term decisions but even the most prepared procurement teams will see their currency hedging begin to run out in the coming months.
However, the study found that the situation is rosier for British exporters, who are becoming more competitive as a result of the depressed pound. The full Q3 report advises businesses to keep a close watch on Brexit negotiations as tariffs are at risk of constant change.
"Skilled supply chain managers are adept at managing the short term supply chain disruptions but with supply chain risk returning to record levels, businesses must be continually vigilant in vetting their suppliers and preparing contingency plans," said John Glen, CIPS economist and director of the Centre for Customised Executive Development at The Cranfield School of Management.