Takko Fashion has chosen Hermes Fulfilment to be its logistics partner. It will handle the warehousing and order picking for all its online products.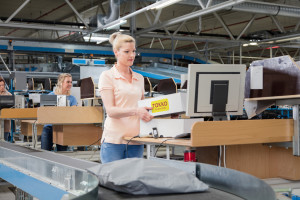 Up until recently, the German-based retailer sold its range via brick and mortar stores – it set up an online store several weeks ago.
Hermes will be operating out of the Südhafen mail-order logistics centre in Haldensleben (Saxony-Anhalt), Germany. The facility connects inventory management, merchandise management and checkout systems to Hermes Fulfilment IT platforms.
"We benefit from a state-of-the-art picking and sorting system installed at the mail-order logistics centre a couple of months ago to optimise the flow of products," said Takko Fashion CFO Thomas Helmreich.
Hermes Fulfilment CEO Dieter Urbanke, said: "We are thrilled to have been able to forge this partnership with Takko Fashion and look forward to using our e-commerce competence to help this key fashion industry player shape its new strategic focus."