Parcel delivery firm Hermes is opening ten new depots in response to continued growing demand for online shopping since lockdown began.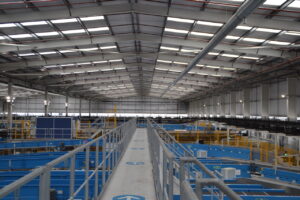 Totalling 564,166 sq ft of warehouse and distribution space, the ten locations include a new depot in Nottingham which the company has already opened early in order to support the increased volumes resulting from lockdown.
Located just off junction 26 of the M1, the 75,719 sq ft building at investor developer Panattoni's Panattoni Park Nottingham, is expected to process more than 100,000 parcels daily in its first year and has the capacity to process up to 120,000 a day.
Commenting upon the rapid site acquisition activity Hermes' director of operations – planning and development, Ashley Walker, said: "The pandemic has accelerated the shift from high street to online shopping, so our business needs to be extremely agile and have the ability to swiftly scale up when demand is high.
"Additional depots allow us to continue operating safely and to support our clients, so we can meet demand from the end consumer."
Over the past three months, a team led by solicitor Gordons has advised all property legal matters relating to leasing the new sites.
Gordons' commercial property partner Paul Young said: "We had to work quickly, accurately and commercially to secure the depots. It is great to know that we have enabled Hermes to achieve its objectives despite the challenges that the pandemic has presented to doing property deals."
Hermes has seen a 100% year-on-year increase in volumes for SMEs and is currently delivering around 700,000 parcels a week for customers in the sector.