Tesco has launched a one hour grocery delivery service in central London.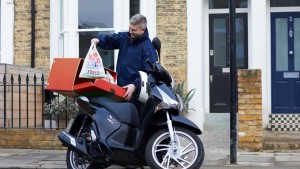 The 7.99 delivery service is available via a new app, Tesco Now. Customers can order up to 20 items from a range of 1,000 products.
Orders are picked in a local store and delivered via moped within 60 minutes. The delivery is handled by third party fulfilment company, Quiqup.
Customers can track orders via the Tesco Now app, receiving live updates on the progress of their order.
Tesco Now is available to customers in some central London postcodes between 8am until 11pm on weekdays and 9am until 11pm at weekends. The service is priced at £7.99 with no minimum spend on each order.
In addition to the one hour delivery, a two hour delivery option will also be available priced at £5.99.
Adrian Letts, online managing director at Tesco, said: "Shoppers' needs are changing and we want to offer a range of services that allow them to shop with us in a way that suits their needs. We look forward to hearing what they think of the new service."