Tesco has set out plans to close two distribution centres as part of a transformation programme which also involves taking all warehouse operations currently carried out by DHL and Wincanton in house.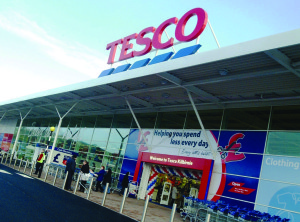 The proposed changes would reduce the number of Tesco distribution centres from 25 to 23 in the UK. The changes involve:
* Closing Welham Green distribution centre and moving its grocery operations to the Reading distribution centre.
*Bringing the majority of general merchandising into one distribution centre at Middlesbrough, resulting in the closure of the Chesterfield distribution centre.
* Withdrawing from Daventry hanging garments shared distribution centre which is currently operated by DHL. Its clothing operations will move to nearby Tesco Daventry distribution centre.
*Bringing all warehouse operations that are currently carried out by DHL and Wincanton in house.
In a statement, Tesco said it would also simplify the management structure across all distribution centres.
"While these changes will result in some redundancies, new roles will be created within other sites across the Tesco distribution network. This includes new jobs at Reading and Middlesbrough distribution centres as well as the creation of colleague support roles in the majority of centres."
Matt Davies, Tesco UK&ROI CEO, said: "As the needs of our customers change, it's vital we transform our business for the future.
"As part of this we are proposing to close two of our distribution centres in the UK. These changes will help to simplify our distribution operations so we can continue to serve our customers better.
"Our priority throughout this process has been our colleagues and we will continue to do all we can to support them at this time."
Up to 1,000 jobs could go as a result of the closure of the distribution centres, but Tesco expects to create about 500 jobs as a result of the changes.
Joanne McGuinness, national office for trade union Usdaw said: "This is devastating news for the staff at Welham Green and Chesterfield distribution centres. Usdaw officials and senior reps were on-site today to support and advise members at this difficult time.
"We will now enter into consultation talks with the company where we will look closely at the business case for these proposed closures. Our priority is to save jobs and keep as many staff employed in the business as possible."
McGuiness also warned that the proposed management restructure in all Tesco distribution centres will result in jobs being put at risk.
"Usdaw will be consulted on the business case for the company's proposal and we will be seeking to get the best deal for any of our members who will be affected."