The Thames could ease road congestion in London by becoming a "highway" for transporting goods, the London Chamber of Commerce and Industry (LCCI) has said.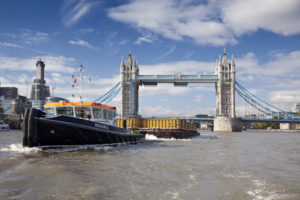 It said that the Mayor of London should establish a temporary River Commission to explore how to make better use of the River Thames a leading business group said today. The Chamber also said that such a body could "have a brief to look at greater moving of freight and construction material by river thereby helping to ease congestion on the capital's roads."
"In effect, the Thames is an underused superhighway which flows through the heart of our capital, surely we should look to maximise its potential," said chief executive of LCCI, Colin Stanbridge. "As London continues to grow and more infrastructure is built it makes sense to ease some of the congestion on our roads.
"TfL is already working with Network Rail and the Port of London Authority to move freight off the streets and a River Commission could take this work to the next level, inviting views from interested parties LCCI believes that a River Commission could operate within an agreed time remit, taking evidence from all interested parties and producing a final report of practical recommendations."