Renault Trucks has set out its vision to be a driving force in electromobility.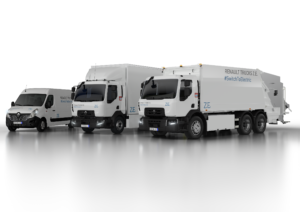 Renault Trucks will be releasing its 9-seat Minibus Renault Trucks Master Z.E. this month as experiencing demands for its Range D and Range D Wide Z.E. models. First UK customer vehicles are scheduled for delivery in early 2020. "This promises to be a remarkable year for electromobility," said Renault Trucks UK & Ireland managing director Carlos Rodrigues.
"For Renault Trucks, electromobility was the obvious response to urban air quality and noise issues, and we have been preparing for the shift to electric vehicles for over ten years," said Rodrigues.  He believes the company's range of fully electric vehicles is a major attraction for operators seeking to improve their environmental performance.
"Today we can offer a complete range of 100% electric vehicles, from 3.1 to 26 tonnes – cleaner, safer, more efficient vehicles with proven performance, ideally suited for use in the city," he said. "For tomorrow, we must continue to accelerate change, and to do this we must continue to work with operators, legislators and other stakeholders to ensure our vehicles remain fully compliant and competitive."
"The switch to electromobility has started. Renault Trucks is in the driving seat as electric commercial vehicles change our urban landscapes. We're ready for an electric future."