TNT Express made an operating profit of €38 million in 2015, compared to an operating loss of €86m in 2014, while revenue was up 3.5 per cent to €6.9 billion.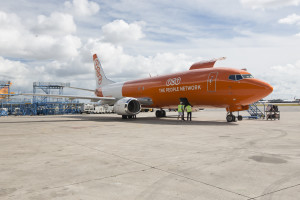 The company, which is the subject of a takeover bid by FedEx, said the return to revenue growth came despite economic volatility in some of its markets, notably Brazil and China.
The company has been targeting SMEs and it said revenue from this sector grew by 5.1 per cent, accelerating as the year went by. Underlying revenue growth in the largest segment, International Europe, gained momentum quarter by quarter.
The FedEx takeover is expected to be completed in the first half of 2016. It means that TNT will not pay a dividend for 2015. If TNT were to pay a dividend, the dividend amount would be subtracted from the offer price upon FedEx actually purchasing the shares from TNT's shareholders.
Tex Gunning, TNT's chief executive officer, said: "The implementation of the Outlook strategy is gaining momentum. We saw growth accelerating, particularly in our International Europe express business, and we realised a significant improvement in operating income.
"Service has improved noticeably, as evidenced by record customer experience scores. We are quickly making up for the lost ground in operational excellence by accelerating capital expenditure and outsourcing our Global Business Services and IT infrastructure. We expect further year-on-year improvements in adjusted operating income in full year 2016.
"Good progress has also been made towards closing of the FedEx offer to acquire TNT. Pre-integration planning is well on track and we are all looking forward to a bright future with FedEx."