TNT Express will sell its airline operations, TNT Airways and Pan Air Líneas Aéreas, to Dublin-based ASL Aviation Group on completion of its acquisition by FedEx.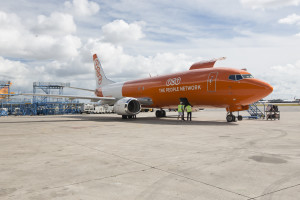 The deal marks another step in the takeover process, which is expected to be completed in the first half of 2016.
TNT Airways has 25 aircraft including four Boeing 747s and three Boeing 777s. Pan Air, which is based in Madrid, operates nine BAe 146 aircraft. TNT has been in the process of phasing out the BAe 146s and replacing them with B737s.
TNT's Liège hub is not part of the airline's sale. It will be maintained as an operation for the FedEx-TNT combination going forward.
ASL will take over the flights operated by TNT Airways and Pan Air from the moment the sale is completed. It has entered a multi-year service agreement with TNT to operate flights for the intended FedEx-TNT combination. ASL Aviation Group will continue to serve multiple airline customers.
Tex Gunning, chief executive officer of TNT, said: "I am really happy to report that great progress is being made in planning the integration of FedEx and TNT. In anticipation for closing, we had to find a new owner for TNT's airlines to comply with aviation regulations.
"With ASL Aviation Group, we have found an experienced aviation group that can meet the high service standards that we have implemented at TNT over the last two years. I wish to thank all the employees of TNT Airways and Pan Air for their dedication and hard work over the years."
ASL currently operates a fleet of some 100 freight and passenger aircraft providing aviation services globally. It had sales of €382m in 2015. CEO Hugh Flynn said: "We look forward to welcoming the teams at TNT Airways and Pan Air to ASL Aviation and having them become a valued part of our group. As a global aviation services provider with operations on six continents and a post transaction fleet of more than 130 aircraft, we will continue to use our strength and stability to offer the best possible service to all of our customers."