Toyota has revealed plans to produce a scalable and customisable autonomous electric 'e-Palette Concept Vehicle'; designed for transporting people and goods alike. Amazon, DiDi, Mazda, Pizza Hut and Uber, are all launch partners for the company's new mobility service business alliance – they will collaborate on vehicle planning, application concepts and vehicle verification activities.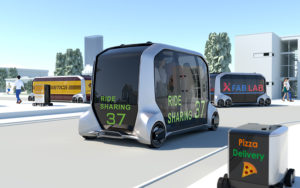 According to Toyota, there are three sizes of e-Palette Concept, with different lengths (depending on the purpose-built specification). Lengths vary from 4m to 7m approximately.
The new concept will be a fully autonomous, battery-electric vehicle aimed at a range of 'Mobility as a Service' businesses. The vehicle will have an open control interface to allow partner companies to install their own automated driving system.
"The automobile industry is clearly amid its most dramatic period of change as technologies like electrification, connected and automated driving are making significant progress," said Toyota president Akio Toyoda.
"Toyota remains committed to making ever better cars. Just as important, we are developing mobility solutions to help everyone enjoy their lives, and we are doing our part to create an ever-better society for the next 100 years and beyond.
"This announcement marks a major step forward in our evolution towards sustainable mobility, demonstrating our continued expansion beyond traditional cars and trucks to the creation of new values including services for customers."