Toyota Material Handling has launched two new models, the BT Levio LWE130 powered pallet truck and the BT Staxio HWE100 stacker truck.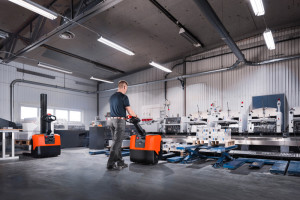 The LWE130 powered pallet truck can transport loads of up to 1.3 tonnes over short to medium distances with a travel speed of up to 5.5 km/h; while the HWE100 truck can stack up to 1 tonne to heights of up to 2 metres.
They are designed to be compact and lightweight make them suitable for working in confined spaces such as shops, supermarkets or in the back of delivery vehicles.
Commercial director Tony Wallis said: "At Toyota, we pride ourselves on continuous improvement and we have applied this thinking to the further development of these trucks. The additional features available now offer customers increased comfort, reduced noise levels, more efficient charging and improved energy efficiency".