Global logistics company Transmec Group has launched a UK-Italy intermodal service, with three departures every week each way.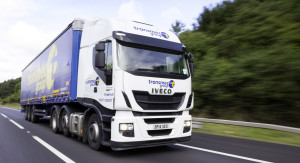 The service provides a direct rail connection between Zeebrugge, Belgium and Novara in north-west Italy. The no-transhipment service includes collect and ship capability from across the UK and forward shipment by road throughout Italy.
"The service offers a compelling alternative to road with differences in transit times of just 24 hours," said John Simkins, general manager of Transmec UK."As well as being cost-effective, it's also environmentally-friendly, helping customers to meet critical targets for reducing CO2 emissions."
Transmec said that the services' transit times are "optimised" by a short pre-advice notice facility. According to the company, typical schedules include: Birmingham-Milan five days, London-Bologna four days, Leeds-Turin five days.
It will use its own fleet of 200 Huckepack trailers for the route.
Transmec has three UK depots at West Thurrock, Redditch and Bradford and nine across Italy.