Travis Perkins the Builders' merchant group, is closing ten of its smaller distribution and fabrication centres as part of a plan to optimise its network in the face of uncertain future demand.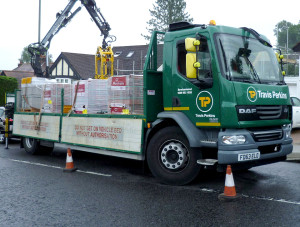 The programme also includes the closure of 30 branches. In total some 600 employees are affected.
In its trading update for the third quarter, the group said it would incur exceptional charges in 2016 of between £40m and £50m of which approximately two-thirds will be non-cash write offs.
"The cash cost of the restructuring is expected to be recovered by the efficiencies generated within 18 months and provide on-going benefits to the group thereafter."
Total sales for the first nine months of the year were 4.9 per cent up on last year. The Consumer business did particularly well showing 6.4 per cent like-for-like growth. But the Plumbing and Heating division saw like-for-like sales of 1.1 per cent.
In September, plumbing and heating company Wolseley also outlined plans to prune its UK network in a £100 million "UK turnaround and repositioning" plan.
Travis Perkins chief executive John Carter said: "General Merchanting delivered a solid result in the third quarter alongside very strong performances in our Consumer and Contracts businesses where we materially outperformed our markets.
"Our Plumbing & Heating results were disappointing and while market conditions have worsened, we are not satisfied with our performance and will commence reviewing these operations.
"Our operational focus remains on improving all of our customer propositions, optimising our networks, intensifying our use of space and exploiting the scale advantage we have created.
"We expect this focus to underpin our outturn for 2016, albeit with Adjusted EBITA slightly below current market consensus of around £415 million".
The group is now in the second phase of a five-year plan, first outlined in December 2013. This involves "selective investments to create and extend structural advantages over the medium to longer term".
It said the Wickes new store format was delivering significant improvements in sales and returns with 12 Wickes stores refitted in Q3 bringing the total number of stores operating in the new format to 50.
"The multichannel experience has been improved in Wickes with delivery slot of choice now launched and the trial of deliveries within an hour underway. Toolstation has reduced the lead time on Click & Collect and Travis Perkins has launched 2 hour Click & Collect nationwide. Further investments in value, as well as range enhancement and extension in Wickes, Toolstation, Benchmarx and Travis Perkins are delivering both a better customer experience and improved returns for shareholders.
The Group wants to continue to expanding its network, principally in Wickes, Travis Perkins, Toolstation, CCF and Benchmarx, as well as through trade parks where a number of businesses can co-locate.